Through the past five years TSPrint has become a household name for any sysadmin. It changed the landscape by offering a simple tool which didn't further complicate the already overwhelming workload of administering a terminal server. Beside it's simplicity it also was readily available with a fair licensing offer and excellent support from our team.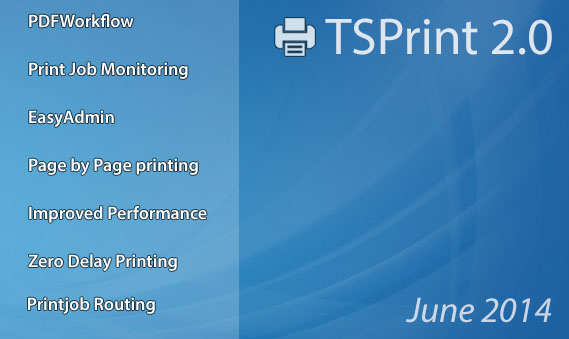 TSPrint 2
TSPrint is already at version 1.9.10.2 and it was time to prepare for 2.0. Instead of just changing the versioning we decided to change TSPrint in a way which would make TSPrint not only one of the best but the very best remote desktop printing solution on the market. We wanted to achieve that in two ways. The first way would be to offer additional tools and features into TSPrint which would cover different aspects of terminal services printing besides printer redirection. The second way would be to improve the existing performance and stability of TSPrint. The problem is that packing additional features would turn off some of our customer base which loved the product for it's simplicity and small impact on the terminal server. Because of that we decided to offer TSPrint in two variations, TSPrint Standard and TSPrint Professional.
TSPrint Standard
This will be the TSPrint you know and love. We have already done a lot on the core of TSPrint to improve the overall performance in the past few years however with version 2.0 thing will change drastically.
Performance improvements
The performance will improve by around 60% to 80% depending on document type and size. This will be achieved by removing PDF as our intermediate format and using EMF. The resulting EMF document is parsed and compressed which reduces it's overall size in some cases by up to 98%. For example a five page word document with around five pages and two images can result in an EMF spool file 50mb large. After doing our magic on it we reduce it to around 200kb.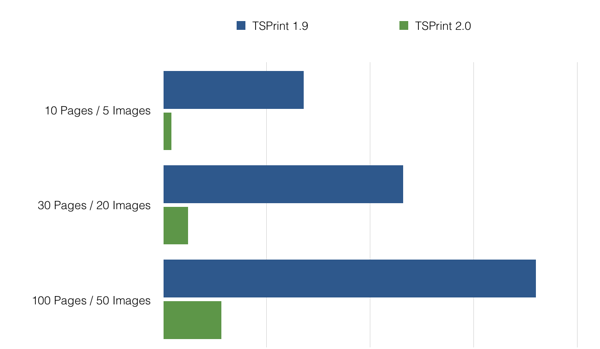 Page by page printing
We will be also introducing our page by page printing system which will allow you to print on your local printer as soon as the first page is spooled on the server side. Till now TSPrint always spooled the whole document on the server side, compressed it and then send it to the local printer. This often introduced a delay when large documents where printed as we had to wait for the document to spool on the server side to send it to the client. With TSPrint 2.0 our universal driver splits the document and sends page by page to the client which results in immediate printing as soon as the customer presses the Print button on his application.
Better printing results
After we managed to prove that we can drastically improve the speed of printing we also had to make sure that the results were as satisfying as always. Not only did we managed to do that but we also improved a lot in cases were before manual configuration was required. An example would be label printers which often showed wrong margins when printing from TSPrint. This could be easily fixed but still required user intervention. Now with the new mapping engine in TSPrint 2.0 those cases should work perfectly out of the box.
TSPrint Professional
The TSPrint Professional package will introduce a lot of new futures which are not only covering the printer redirection topic of terminal services printing. Those futures should allow you to monitor, control and automate your printing needs on your terminal server.
Print Monitor
The print monitor will allow you to monitor all print jobs on your terminal server. This will give you the possibility to analyse the load on different printers or printing needs of your users. You will be also able to enable print job archiving which could allow you to retrieve documents printed but lost. Beside monitoring print jobs the application will also give you insight on the behaviour of your printers. Which printer fails the most, how many pages have gone through this printer and many other question will be answered with a few click. The print job monitor will have a control panel so that you can easily restart the print spooler, clear specific printer queues or even single jobs.
PDFWorkflow
Automate your printing workflow with PDFWorkflow. Initially it was designed as a standalone application but we decided to bundle it into TSPrint Professional. This application will in some kind act as middle ware where you will be able to declare predefined actions which should be executed depending on the printer it was printed or the users which printed. For example you can print a document which then is automatically converted by PDFWorkflow to a PDF document, mailed to a few e-mail addresses and then saved to a specific location on your disk. Creating such an workflow will take mere minutes.
Admin Panel
The admin panel will allow you to easily administrate all your remote desktop printing needs, settings access to specific printers or groups, restarting them or even limiting some parameters such as number of pages allowed to print.
Printjob Routing
With the printjob routing printer you will now be able to send your print job to another users printer as long as he is connected to the same terminal server. Instead of mailing documents around to your colleagues for them to print them out you will be able to automatically print it out on their printer right next to them.
As you already noticed it's a lot of changes which will take time to complete. The public release date of TSPrint 2 is June 2014. Follow us on Facebook or on our blog to stay up to date with future updates regarding TSPrint 2.0. We will soon be publishing more details about PDFWorkflow, PrintJob Monitor and other new and existing futures.
If you are interested in our private beta please visit this form.
For all existing customers of TSPrint the update to TSPrint 2.0 Standard will be free of charge.
Update 1/9/2014
We pushed the release date of TSPrint 2.0 to November 2014. The beta will be available earlier for interested customers.