TSPrint 3.0 - What's New?
TSPrint 3.0 bring two major new features to TSPrint. Both features were carefully developed during the last year to further improve upon the most popular remote desktop printing software.
Dynamic Redirection
With the release of TSPrint 3.0 we introduce a new way of printer redirection. As you are probably used till now, we create a set of predefined printers during the installation which would then be used for specific scenarios. TSPrint Default, TSPrint Printer were two of the most commonly used. However, with the new
Dynamic Redirection,
your local printers will now be automatically mapped from the local workstation to the terminal server.
For now, Dynamic Redirection is enabled by default. To disable it open the TSPrint
Server Options
from your start menu and open the Dynamic Redirection tab. There you can disable dynamic redirection. Once you enable it you need to re-login to your remote desktop services server.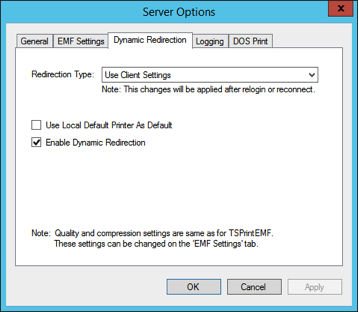 Once you log-in again you should now notice some new printer(s). They should have the same name as your local printing device but suffixed by a hashtag and your session id (e.g. HP OfficeJet 4200 #0002).
To define which local printers should be redirected, you will have to use the Redirection Type setting on the server side. This defines the behavior of the dynamic redirection. There are three different redirection types which we will cover now: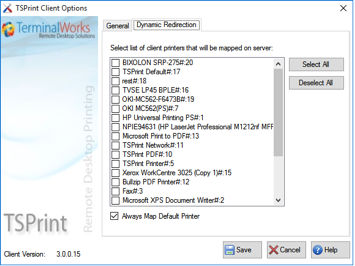 The major benefit of dynamic redirection is that all any every available setting from the local device will be available on the server. From trays to color management everything will be mapped 1:1 to the terminal server thus avoiding any discrepancies which could have occurred in an earlier version of our redirection.
Automatic Client Updates
The second major new features are automatic client updates. Once you upgrade your clients to at least TSPrint 3.0 you won't have ever to bother again updating them. Now during start-up, the client will check with the server installation on what version of TSPrint it's running. The client will then synchronize with the server version in the background and always run a client version which is fully compatible with the installed server version. So in the future, you won't have to deploy new client installations to the workstations as they will always stay up-to-date and upgrade themselves from the TSPrint server installation in the background.
We hope you will enjoy the changes and as always we appreciate any feedback from our customers so please don't hesitate to contact us with your questions or remarks.
Release Candidate Downloads
To download the server installation, please click the link below:
The client installation is available at:
TSPrint 3.0 Release Candidate Guide:
Update July 10th 2017: TSPrint 3 is now officially released.
Download

For the latest downloads please visit: http://www.terminalworks.com/remote-desktop-printing/downloads