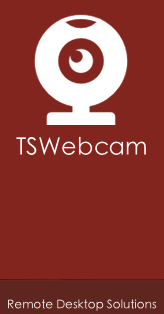 TSWebcam - Remote Desktop Webcam
By using TSWebcam you will be able to access your local web camera on your terminal server session. TSWebCam supports all web cameras which offer a DirectShow interface. On the server side it will also map your local camera to a direct show interface so that application like Skype, Google Hangout or for example Facebook will be able to utilise it.
Please note that TSWebcam does not provide a TWAIN interface to the webcam. For that you can use our UniTwain product.
Installation
TSWebcam comes in two installation packages:
TSWebcam client
TSWebcam server
You install the client package onto your local workstation. Once done you log-in to your terminal server and install the server package. After that you are ready to go.
Pricing
We decided to provide TSWebcam free of charge. The downloads are limited by a 60 day trial period. However you can just contact our support department and you will receive a full license for free.
Update December 1st 2015: TSWebcam is now available as a commercial product. The price for a server license is $299.00. Support is now also available for TSWebcam. Please visit http://www.terminalworks.com/remote-desktop-webcam for more information.
Customers who have a free license can not upgrade to the commercial version of the product as their license will be invalid.
Download
For the latest downloads please visit: http://www.terminalworks.com/remote-desktop-webcam/downloads